Dry brining this turkey gives it amazing flavor.
I promise you that this will be one of the most flavorful and juiciest turkeys that you ever make.
I tried this method for the first time a few years ago. It is now my go-to method for preparing a turkey.
Jump to Recipe   Print Recipe
There are a few benefits to making your turkey this way.
Your cooking time is almost cut in half.
Handling the spatchcocked turkey is much easier than dealing with a fully intact bird.
The dry brine is also much easier than wet brining your turkey. I also think it results in a better texture and flavor.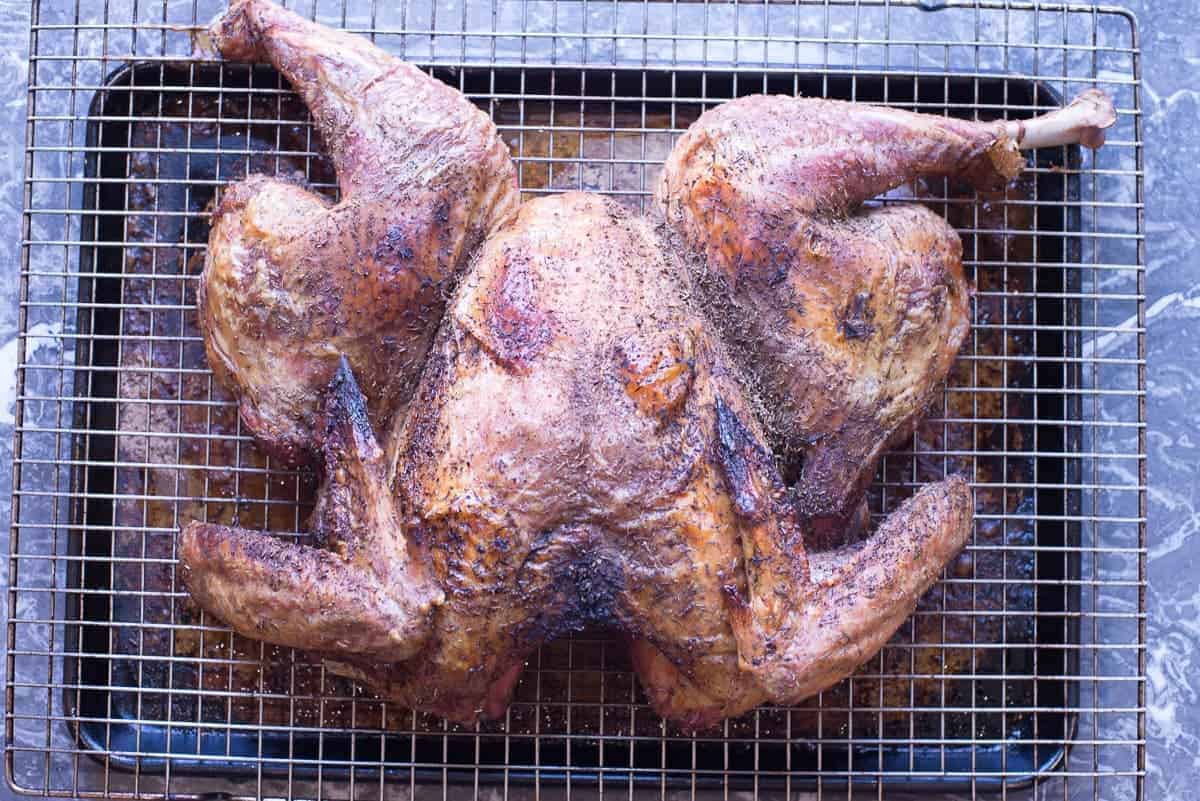 ARE YOU TIRED OF THE SAME OLD BORING FOOD?
Download my MOST POPULAR seasoning mixes and get some flavor in your life. These easy to store mixes are a must have to spice up your dinner game.
Spatchcocking  – Super fun to say but what the heck does it mean?
Spatchcocking is a two step process.
Remove the back bone of the bird.
Smash the bird flat.
This technique can be used for any whole bird. I often use it when grilling a whole chicken.
I first tried this method after reading a recipe from Alton Brown. He is kind of one of my cooking idols. I've always had a thing for geeky guys. But a geeky guy that cooks – now that's impressive! His cooking show, 'Good Eats', is one that I used to watch all the time.
Alton roasts his bird right on the oven rack with a pan of root vegetable panzanella right underneath it. The first time I made this recipe, I did this. It was fantastic, but I didn't appreciate all the clean up afterwards. So…the way I set things up now is on a baking rack over a sheet pan. I have actually put root vegetables on the sheet pan. They come out great!
Do you have a favorite Family Turkey Recipe? We would love to feature your recipe and family recipe story right here on Foodology Geek. Send us some info and you could win a FREE e-copy of our soon to be released cookbook: BEAST BOWL Nutrition
Spatchcocked Thanksgiving Turkey
Cook Time:
1
hour
20
minutes
Total Time:
1
hour
50
minutes
Dry-brining makes this turkey extra moist and delicious; not to mention, easier to cook.
Print Recipe
Pin Recipe
Ingredients
3 1/2

tbsp

kosher salt

1 1/2

tsp

rubbed sage

1 1/2

tsp

dried thyme

1 1/4

tsp

whole black peppercorns

1 1/4

tsp

pink peppercorns

1 1/4

tsp

juniper berries

1/2

tsp

whole allspice berries

1 13 to 14

pound

whole turkey

neck and giblets removed and reserved for Giblet Stock
Instructions
Preparing Turkey with Dry Brine.
Four days before service, place the salt, sage, thyme, black peppercorns, and allspice into a spice grinder and pulse until the peppercorns and allspice are coarsely ground, 5 to 6 pulses. Set aside.

Start by spatchcocking the turkey: set the turkey, breast-side down, on a large cutting board with the tail closest to you. Use heavy-duty kitchen shears to cut up one side of the backbone.

Turn the bird around and cut back down the other side of the spine.

Reserve the backbone for turkey stock.

Turn the turkey breast-side up and pull sides outward. Then use the heel of your hands to press down on both breasts, until you hear a cracking sound and the bird has flattened slightly.

Rub the seasoned salt on both sides of the turkey. Place the turkey on a parchment paper lined half sheet pan, breast-side up with legs running with the long side of the pan. Store, uncovered, in the refrigerator up to 4 days.

Remove the turkey from the refrigerator and leave at room temperature for 1 hour.
Cooking the Turkey
Place the turkey on a baking rack over a half sheet pan (to catch the drippings).

Reduce the temperature to 350℉

Continue to roast until the thickest part of the breast is 155℉, approximately 40-50 minutes.

Remove the turkey and let rest for 30 minutes before carving.
Notes
Hands On Prep Time is only 30 minutes but be prepared to let this turkey set in the refrigerator for up to 4 days.