You know you love a good meatloaf. Why not make it a Paleo Meatloaf Beast Bowl?
Jump to Recipe
Print Recipe
There are two things that I regularly make for meal prep –
 one of those is meatloaf, and the other is meatballs. Think of meatballs as bite-sized meatloaf. I love those little protein-packed bites of deliciousness! Why? Because like meatloaf, you can build a meatball in so many different ways. You can put any number of flavors together – using almost any kind of meat and spice combination you can dream up. For my daughter, Bean, I even make a filling and tasty vegan meatballs. The possibilities are literally endless!
In fact, the very first Beast Bowl at Foodology Geek was built on Thai Chicken meatballs. [We've been getting together an arsenal of meatball recipes that we plan to share with you soon!]
Back to MeatLOAF and Beast Bowls… 
One of the things that we have been hearing is, 'OMG there are so many ingredients in a Beast Bowl. How is that easy meal prep?'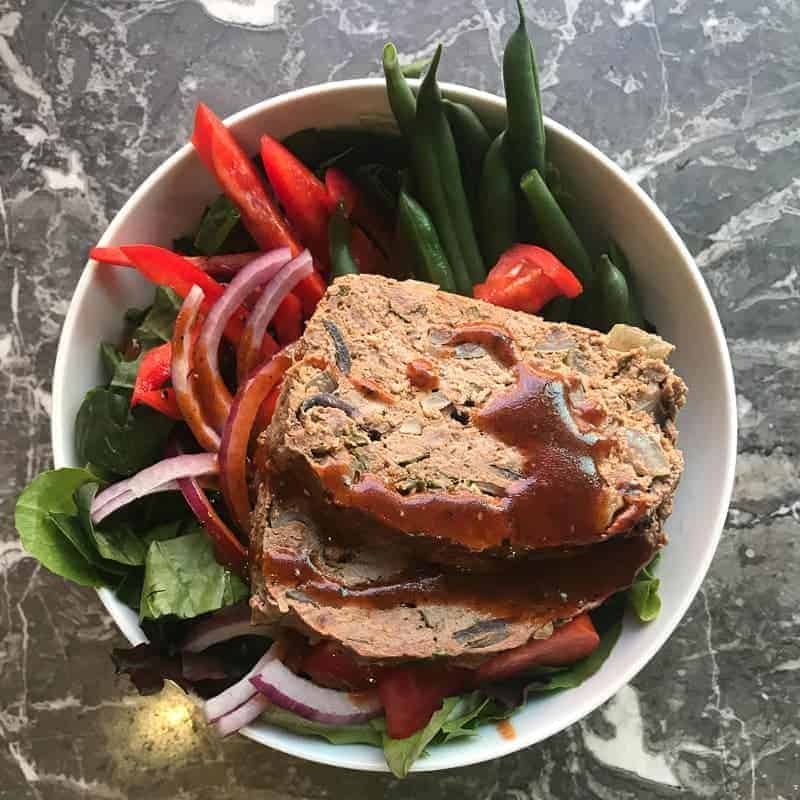 Trust us, making Beast Bowls part of your meal prep is easy!  Let's walk through it, so you can see for yourself just how easy it can be.
STEP 1 – Plan and prepare one or two proteins.
I usually pick two Beast Bowls for the week (check out the total lineup here.) Then, either on Saturday or Sunday, I spend a little time cooking up my proteins. Most of the recipes are super easy! You might have to sprinkle on a few spices and bake your protein in the oven. Or, make a marinade and then cook them a little later.
ARE YOU TIRED OF THE SAME OLD BORING FOOD?
Download my MOST POPULAR seasoning mixes and get some flavor in your life. These easy to store mixes are a must have to spice up your dinner game.
Decide how much protein are you going to need for the week.
When I am planning my meal prep for the week. I usually plan on 2-4 lbs of protein per Beast Bowl. With two bowl types, this translates into 4-8 pounds of protein for the week. (Having this number in your mind makes it easy when you go grocery shopping.) All you have to decide is what two proteins you are going to buy in a given week. Then decide how many meals you will need to cover. Are you just meal prepping for yourself? Do have a partner that needs to eat as well? How about kids?
STEP 2 – Figure out what sauces, dressings or 'Extras' you will need.
Every Beast Bowl has a dressing or sauce. A few of them might have two. They are usually an easy vinaigrette or a mayo-based sauce. Keep in mind that making these from scratch is completely OPTIONAL. If this step intimidates you, by all means, buy a dressing that is already prepped. (Do your best to find one that you really like and that isn't loaded with preservatives, sugar, or vegetable oils.)
The same story is true when we talk about 'Extras.'
Some of the bowls have things like salsas, slaws, guacamole, or some other added component that gives that bowl a special character. I've given you a recipe to allow you to make these 'Extras' from scratch but keep your eyes out for any shortcuts that make your life easier. Salsa Fresca? Buy a pre-made one. Cole Slaw? Buy some pre-shredded cabbage or broccoli slaw. Most grocery stores offer a ton of pre-prepped veggies that can really save time. (Sure they cost a little more, but if your super busy and healthy food is important to you; it's better to spend a little bit extra on prepped veggies than to eat something on the fly that is terrible for you because you didn't plan ahead.)
Be nice to yourself. Set yourself up for success!
If this is your first time doing meal prep, keep it simple. Do what you can comfortably handle and be okay with that. Of course, I hope as you become more comfortable, you'll try making some of the Extras and Dressings from scratch so that you can see just how easy it really is. Remember everything takes practice.
STEP 3 – The element of the Beast Bowl is the Fixin's. These are just a bunch of veggies that make up the base of your Bowl.
Here is a basic list of the core ones. I use some mixture of these in every single Beast Bowl.
lettuce or greens
spinach
kale
carrots
tomatoes
onions
cucumbers
Then you have veggies that might be a little different:
cabbage
bell peppers
broccoli
zucchini
Also, cooked vegetables work, too!
roasted sweet potatoes
roasted white or yellow potatoes.
roasted carrots
blanched green beans
steamed broccoli
salted mushrooms
Don't forget avocados.
Do you feel like eating just two meals all week will be boring?
I hate to be the one to break it to you, but you can't have everything. I've tried my hardest to create easy-to-make protein-packed bowls of deliciousness that you will enjoy eating. I hope that as you start to get comfortable with food prep using 'the Beast Bowl Method' you begin to see the endless combinations of the various component parts that go into each bowl. If you're bored, think about those component parts like a system of interchangeable pieces, each creating a unique customized bowl using the same core protein that you prepped on the weekend.
Let's get Crackin' on the Paleo Meatloaf Beast Bowl.
This bowl is a pretty easy one.
Break it down into component parts.
Fixin's – Keep it flexible. Find your favorites and then use them as the base for your Beast Bowl.
Extra –  Blanched green beans.
Dressing – Balsamic Tomato Vinaigrette.
Protein – Paleo Meatloaf.
Think about your own nutritional needs and goals – and adjust accordingly.
A few tweaks to think about. Do you want some extra carbs? Add some roasted potatoes or sweet potatoes to this bowl. Do you need a little more fat? Add some avocado or even some bacon.
Putting it all together…
STEP 1: The Fixin's – A few handfuls of greens.
I've chosen mixed spring greens and spinach. I've also included some red peppers, tomatoes, and onions. Remember that these are only suggestions.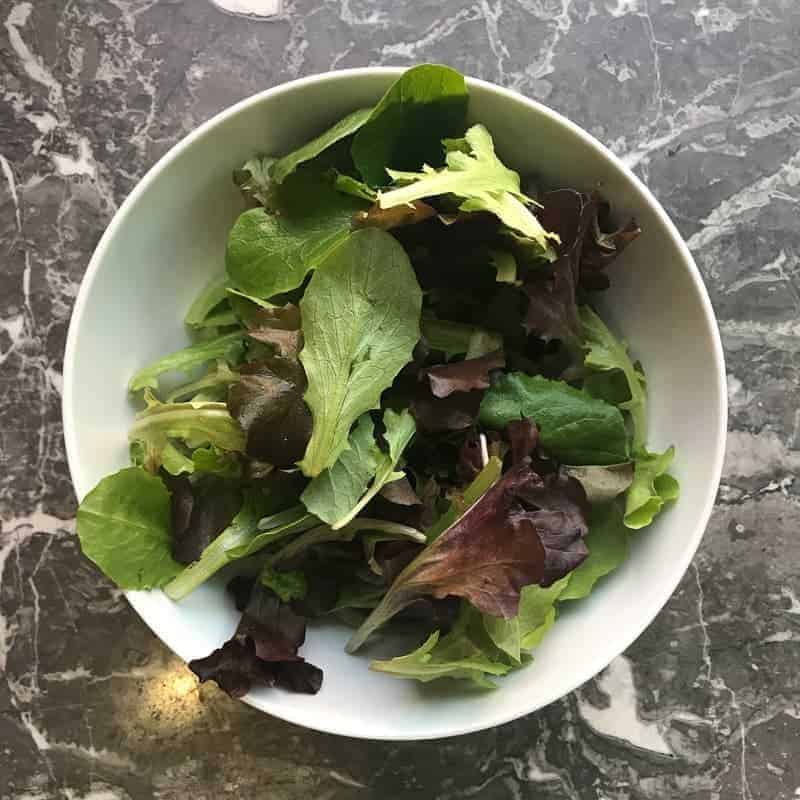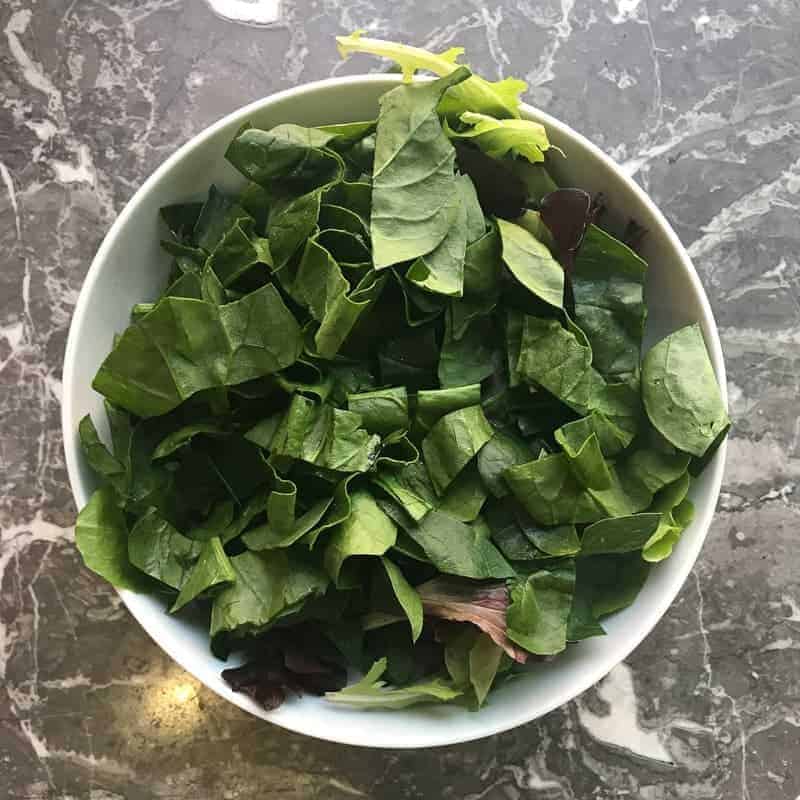 STEP 2: The 'Extra' – Blanched Green Beans
Make sure you make enough so that you can pack them up and throw them on Beast Bowls all week long. (Remember that you can also whip up a batch of mashed potatoes and have some reheated beans and meatloaf for dinner one night. You are still getting a well-rounded healthy meal.)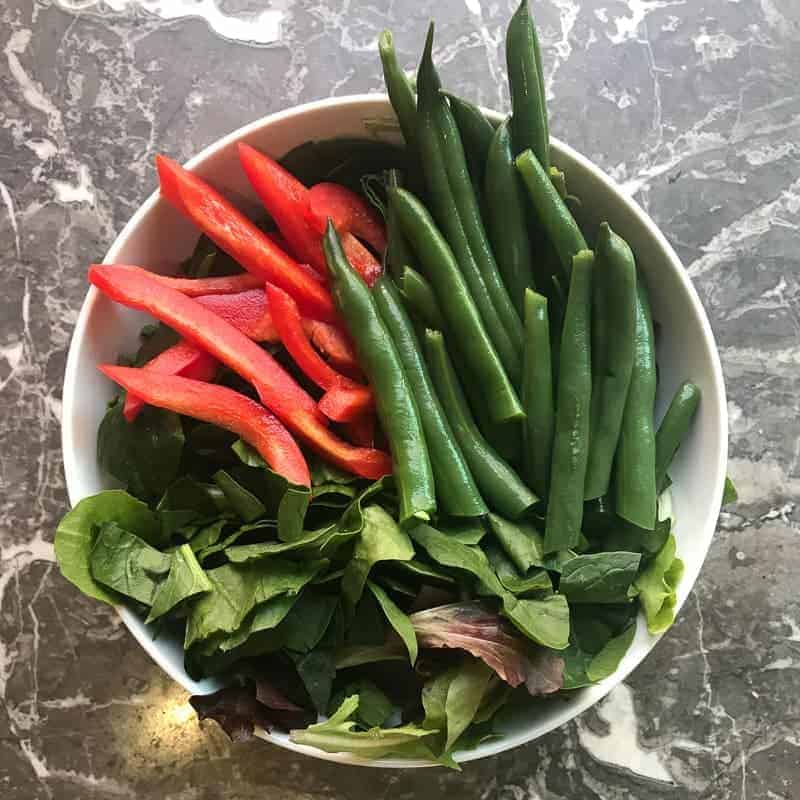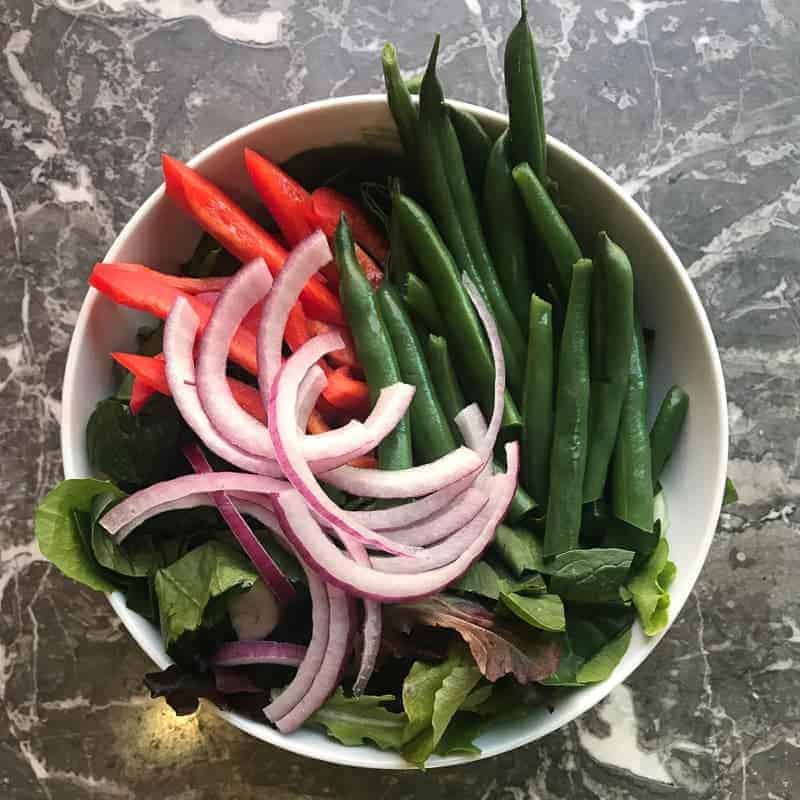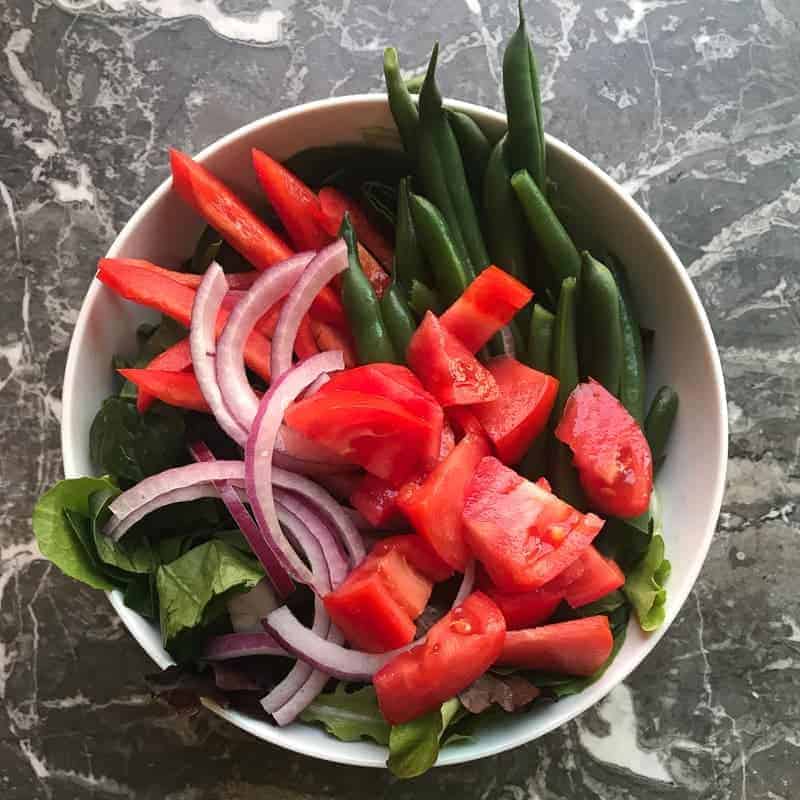 STEP 3: The Dressing – Tomato Balsamic Vinaigrette
Add some dressing to your veggies so that the flavor gets all the way through the bowl.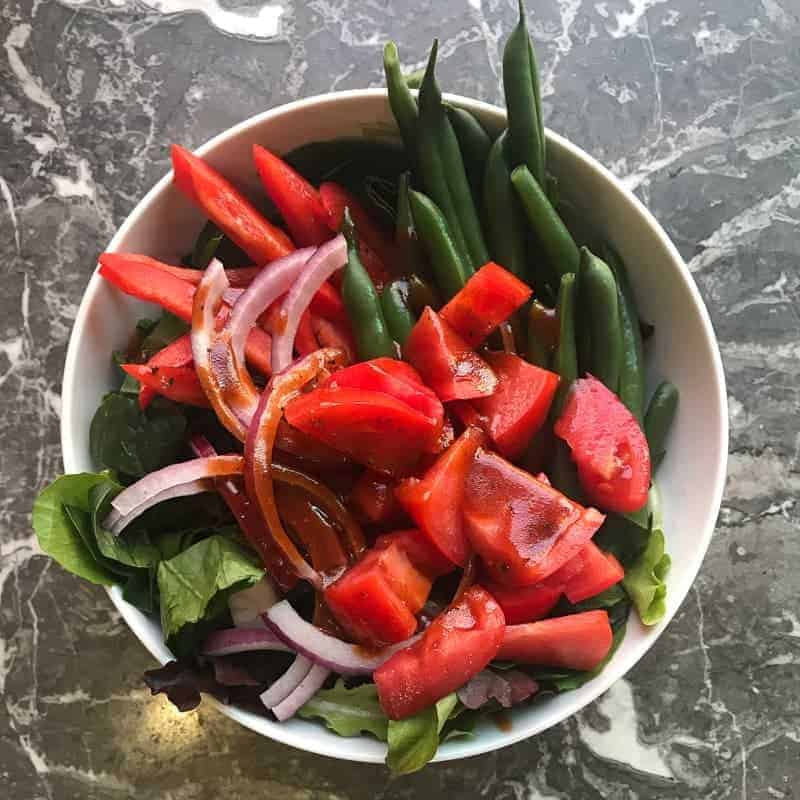 STEP 4: The Protein – Paleo Meatloaf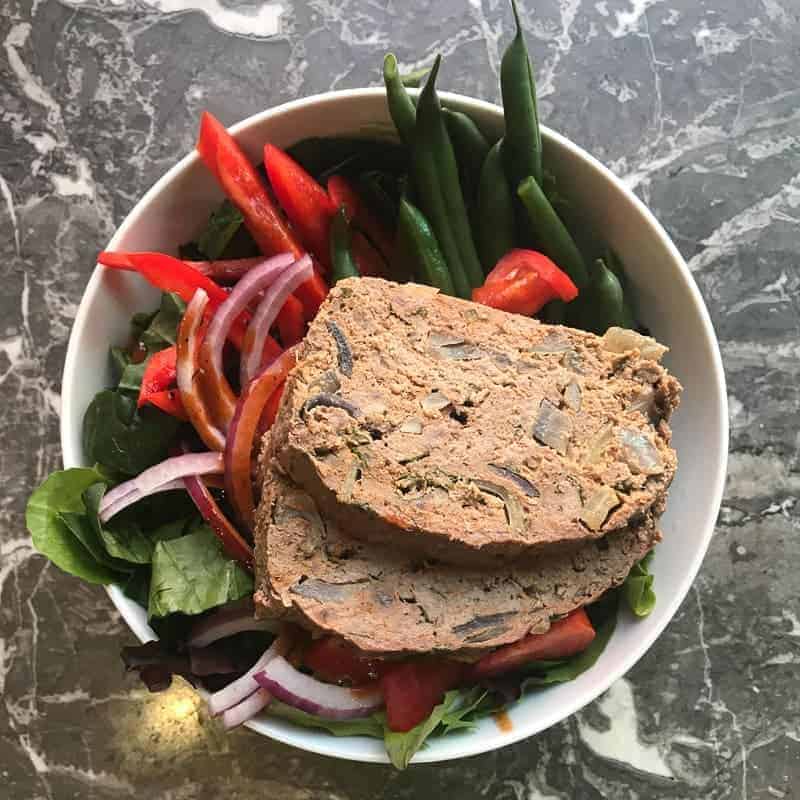 Top your bowl off with a little extra dressing. Then sit back and ENJOY!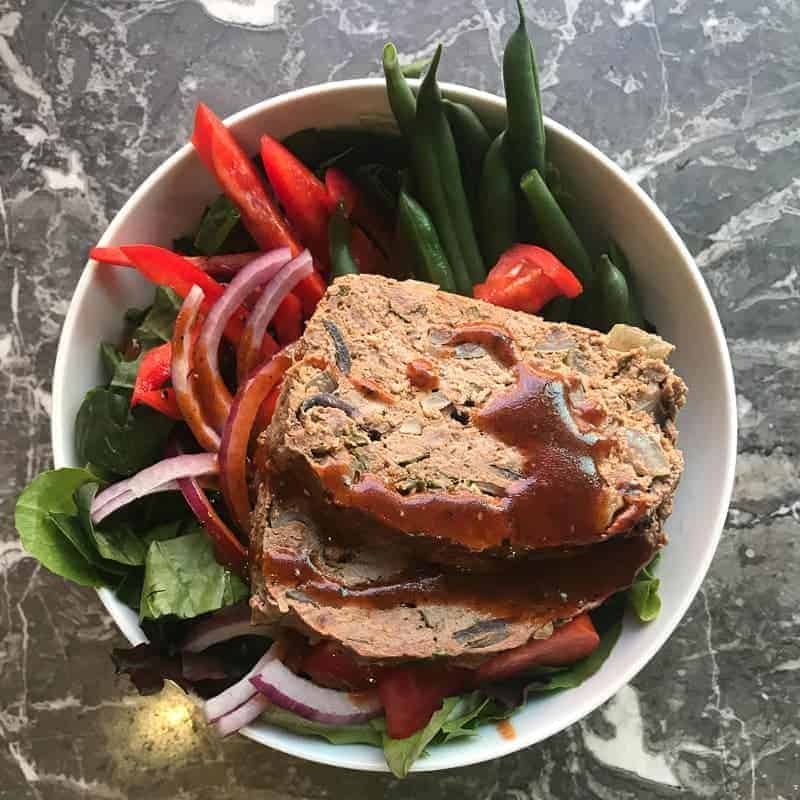 Paleo Meatloaf Beast Bowl
Print Recipe
Pin Recipe
Ingredients
Tomato Balsamic Vinaigrette Dressing
2

tbsp

shallots

finely minced

1

tbsp

dijon

2

tsp

tomato paste

¼

cup

balsamic vinegar

¼

cup

olive oil
Fixin's
romaine

spinach

red onion

tomatoes

green beans

blanched

red peppers
Notes
The nutritional information noted is for the vinaigrette dressing only.
Nutrition
Serving:
0
g
|
Calories:
70
kcal
|
Carbohydrates:
0
g
|
Protein:
0
g
|
Fat:
0
g
|
Saturated Fat:
0
g
|
Polyunsaturated Fat:
0
g
|
Monounsaturated Fat:
0
g
|
Trans Fat:
0
g
|
Cholesterol:
0
mg
|
Sodium:
0
mg
|
Potassium:
0
mg
|
Fiber:
0
g
|
Sugar:
0
g
|
Vitamin A:
0
IU
|
Vitamin C:
0
mg
|
Calcium:
0
mg
|
Iron:
0
mg
Paleo Meatloaf
Total Time:
1
hour
15
minutes
Grandma's Best meatloaf in a carb-friendly presentation!
Print Recipe
Pin Recipe
Ingredients
3

lbs

ground beef

⅓

cup

almond flour

2

eggs

lightly beaten

1

onion

finely chopped

3

cloves

garlic

minced

2

tbsp

Worcestershire sauce

⅔

cup

fresh parsley

chopped

1

tbsp

chili powder

1

tsp

paprika

1

tbsp

kosher salt

1

tsp

crushed red pepper
Instructions
Preheat oven to 350℉.

In a large bowl mix together the remaining ingredients for the meatloaf. I usually use my hands.

Divide mixture in half and place in two loaf pans. Place on large baking sheet.

Bake for 1 hour.

Remove from oven and drain off any excess fat.

Let rest in the refrigerator for a few hours before slicing for sandwiches.

Alternatively, you can eat it hot with mashed potatoes. Just rest 15 minutes before slicing.
Nutrition
Calories:
490
kcal
|
Carbohydrates:
4
g
|
Protein:
32
g
|
Fat:
37
g
|
Saturated Fat:
13
g
|
Cholesterol:
161
mg
|
Sodium:
1067
mg
|
Potassium:
591
mg
|
Fiber:
1
g
|
Sugar:
1
g
|
Vitamin A:
995
IU
|
Vitamin C:
8.6
mg
|
Calcium:
67
mg
|
Iron:
4.5
mg