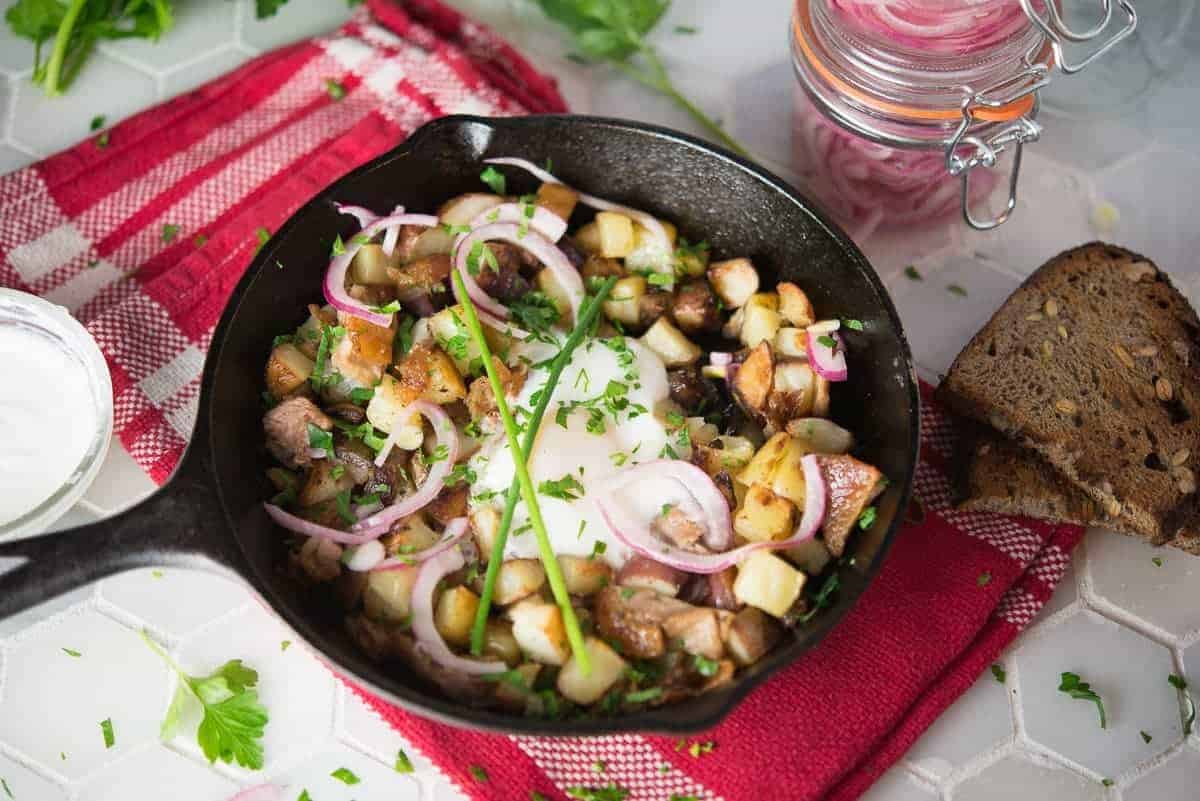 I am a tiny bit obsessed with duck
On a trip to Oregon a few years ago I fell in love with duck, along with developing a serious crush for potatoes cooked in duck fat.
Whenever I visit Oregon I get so excited to see duck on almost every menu. If I wanted to I could have duck something for breakfast, lunch and dinner. I have had duck hash, duck steamed buns, duck phở, duck tacos, and duck confit, although my favorite was always a glass of Oregon Pinot or a Whisky flight and an order of duck egg rolls from Veritable Quandary in Portland. VQ was always a must do every time I made it out there, but I sadly learned that this amazing historical Portland site closed in September of 2016.

This duck hash recipe was created in an effort to recapture some of the romantic Oregon trips that my husband and I have taken – I ended up making this for him on Valentine's Day this year. Salty, crispy duck fat potatoes are a beautiful thing all by themselves, but serve them with rich roasted duck and soft poached eggs and you have a magical and super impressive brunch.
The roasting of the duck is the most time-intensive part of this recipe but it really is worth it. You end up with a good amount of left-over duck fat that can be used for fries and potatoes for months. I usually keep it in the fridge, and then use it for breakfast potatoes whenever I get a craving for something crispy and salty.
If you aren't sure how to poach eggs check out this instructional video by one of my all-time Chef Idols, Jamie Oliver.

Duck Hash
Total Time:
2
hours
20
minutes
Crispy duck fat potatoes and roasted duck make this hash a seriously succulent treat. Roasting the duck takes a little bit of time. But don't let that part scare you. It is really easy and totally worth it!!!!
Print Recipe
Pin Recipe
Ingredients
Duck Fat Potatoes
red potatoes

duck fat

eggs

parsley

chives

salt and pepper
Pickled Onions
1

red onion

halved and sliced thin

1

tsp

sugar

1

tsp

salt

3

tbsp

white vinegar
Poached Eggs
4

eggs

salted boiling water
Instructions
Roasted Duck
Score the skin of the duck, rub with salt and pepper.

Roast at 375℉ for about an hour. Carefully spoon over some of the rendered duck fat over the top of the duck.

Continue to roast for another 45 minutes to an hour, until the skin is crispy and a deep golden brown.

Remove from oven and reserve duck fat. When duck is cool remove meat from bones and chop into bite size pieces.
Potatoes
Dice potatoes (½ inch dice)

Heat duck fat in an iron skillet, add the potatoes and brown them. Salt and pepper to taste.

Remove potatoes and add duck meat to pan to reheat. Use as much skin as you like.

Add potatoes back to the pan, and mix with the duck meat.

Plate, served with poached eggs on top. Garnish with fresh parsley and chives.

Quick Pickled Onions
Cut the onion in half and then slice thin.

Place in a bowl and add salt, sugar and vinegar. Toss.

Let sit for at least 15-20 minutes before serving.

Store leftovers in a non-reactive airtight container in the refrigerator.
ARE YOU TIRED OF THE SAME OLD BORING FOOD?
Download my MOST POPULAR seasoning mixes and get some flavor in your life. These easy to store mixes are a must have to spice up your dinner game.