Foodology Geek is a little over a year old!
To celebrate I want to Take You Back to Thai Chicken Meatballs.
Jump to Recipe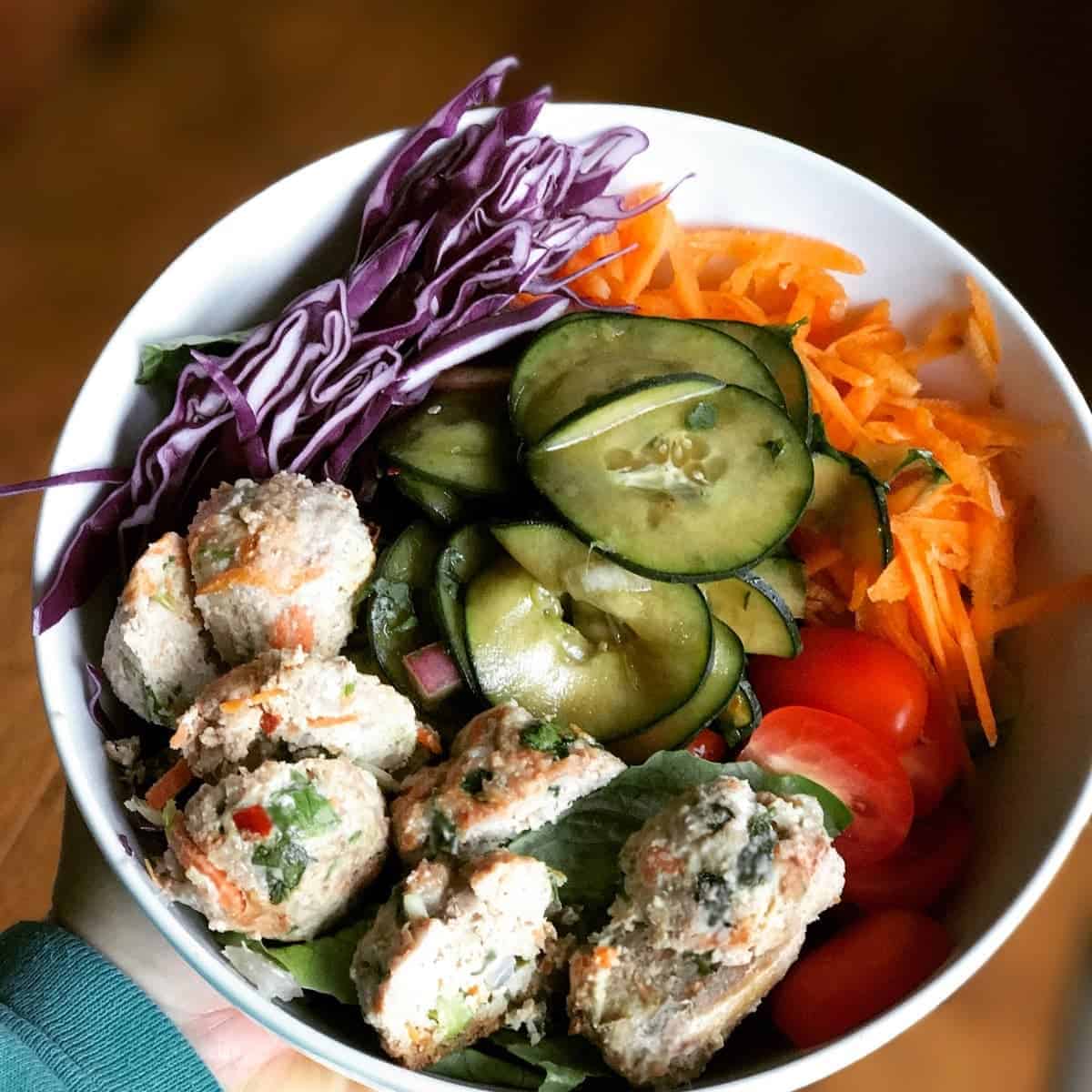 When I started this little blog about food I wasn't totally sure what Foodology Geek would turn into.
My goal has been to create recipes that highlight my love of fresh flavors and seasonal ingredients. Family recipes have inspired so much of my food love – so that is a big part of what I share with you. I knew that I wanted to create recipes that inspire you to eat healthier. Of course, I also wanted to show you how easy it is to cook for yourself with real ingredients.
Become a Beast Bowl Insider!
Get weekly meal plans and insider tips that I don't share anywhere else. No Spam Ever!
I hope that you will continue to follow the evolution of Foodology Geek. Everyday we are getting better at what we do!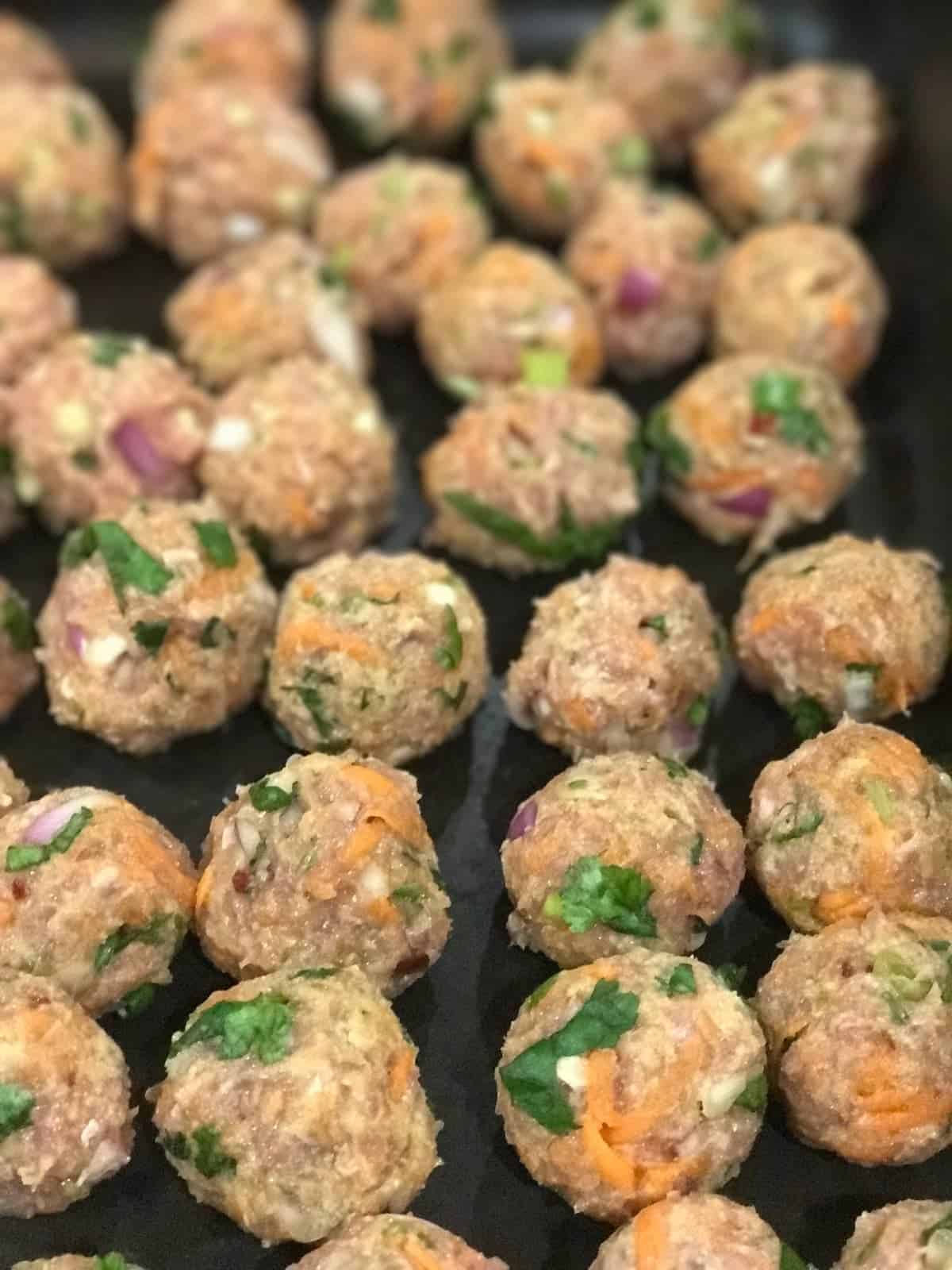 This past year the blog has grown and I have taken on a partner.
You've met her – Kit. In 2017 we've managed to do many of the things that we set out to do. And we can't wait to see what next year brings. We have some awesome plans in store, including a cookbook that we will be releasing in January. 'Beast Bowl Nutrition' will feature all of our Beast Bowls from the blog plus a few that have never been seen before.
'Beast Bowl Nutrition' is a collection of easy proteins, sauces, salsas, and slaws that can be mixed and matched to create a colorful combination of flavors.
They are presented as complete bowls with a suggested pairings of component parts. But – all of these parts are interchangeable – think Legos of food prep.
Our plan is to release the e-book and then follow it up with a print version very shortly. We hope you will pick up a copy of the e-book as soon as it's released and qualify for a deep discount on the print version. It is going to be epic and I'm not just saying that because we wrote it! The book contains several dozen easy-to-prep proteins. Most of our recipes are gluten-free, dairy-free and almost all of them are Vegan-adaptable.
We love that you love these creations!
In honor of this I wanted to take the opportunity to take you back to the OG Beast Bowl. Truth be told, the first Beast Bowl recipe came about a little bit by accident. I was working on my usual weekly meal prep. Each time I meal prep I get two proteins ready for the week. This particular week it was Thai Chicken Meatballs and Honey Mustard Pecan Crusted Chicken.
Here are the Thai Chicken Meatballs all prepped for the week – Yum!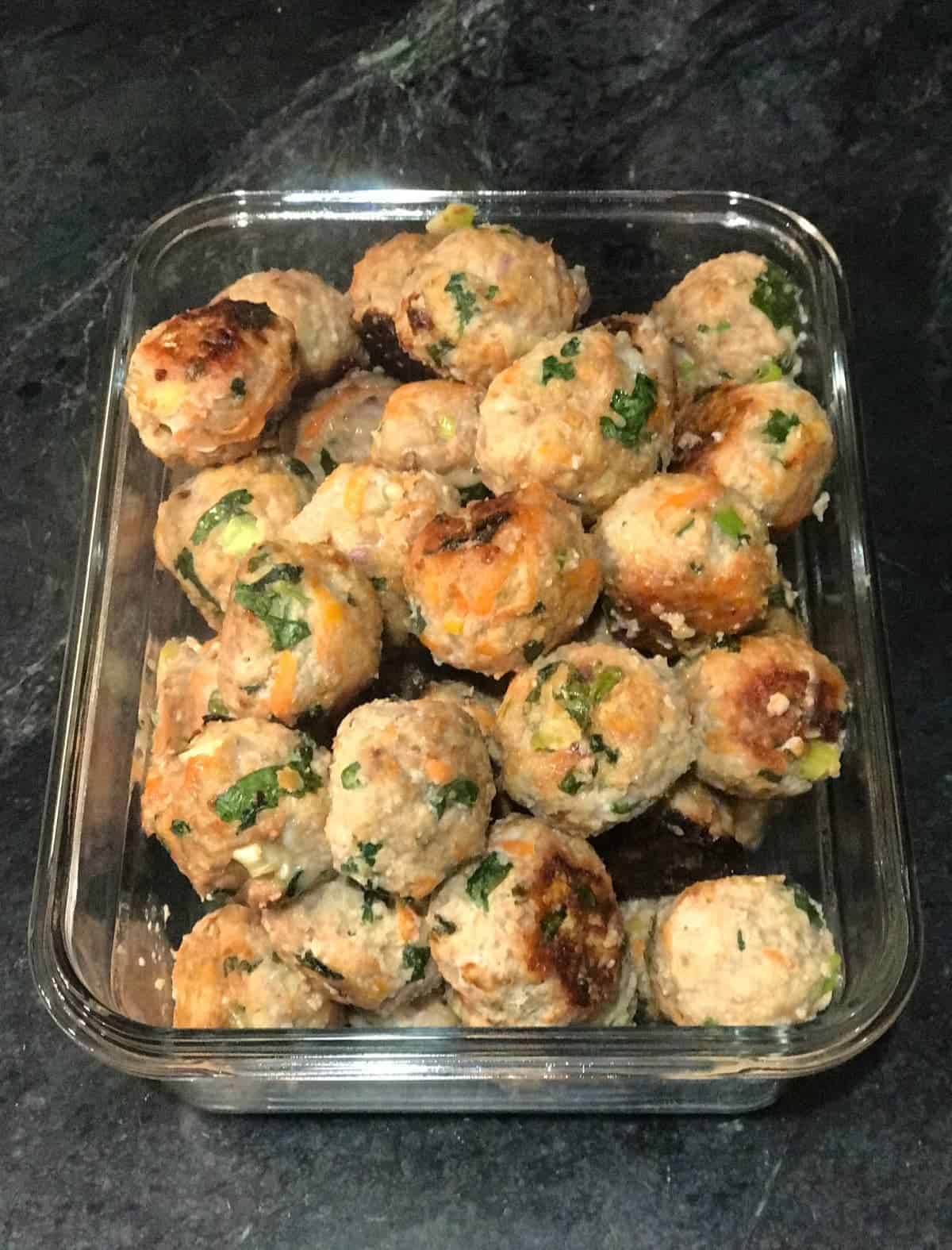 Getting hungry, I did what I do when I need to eat – I threw a few handfuls of greens into a bowl, added some Pickled Asain Style Cucumbers (which I often have in the fridge), threw on some Thai Chicken Meatballs and then snapped a photo for Instagram. There it was – The Beast Bowl was born! This bowl is everything that I love about Beast Bowls. It's colorful and flavorful and has protein that you can portion easily.
Since then I have created twenty plus Beast Bowls and have many more brewing in my head. I haven't gotten tired of creating them. I can't wait to share them with you this next year along with 'Beast Bowl Nutrition.'
Make sure you don't miss out on any updates that we have for the book: 'Beast Bowl Nutrition.' Pre-orders will start soon.
[mc4wp_form id="1940"]
For your chance to win a free copy of 'Beast Bowl Nutrition' leave a comment about your favorite Beast Bowl.
You will get the e-book and the print copy.
[contact-form][contact-field label="Name" type="name" required="true" /][contact-field label="Email" type="email" required="true" /][contact-field label="Website" type="url" /][contact-field label="Message" type="textarea" /][/contact-form]
Thai Chicken Meatballs (Beast Bowl)
These are tasty protein packed ball of deliciousness that can be eaten alone or tossed on top of the Thai Chicken Meatball Beast Bowl.
Servings
8
about 5 meatballs
Ingredients
That Chicken Meatballs
2

lb

ground chicken

¼

cup

green onions

chopped

½

bunch

cilantro

chopped

¾

cup

carrots

shredded

¼

cup

red onion

finely diced

3

cloves

garlic

minced

4

tsp

ginger

minced

2

tsp

chili paste

2

tbsp

soy sauce

or coconut aminos

1 ½

tbsp

fish sauce

1

tsp

crushed red pepper

½

cup

finely ground coconut flour

2

eggs
Optional Sauce
¼

cup

white vinegar

¼

cup

fish sauce

2

tbsp

sugar

2

tbsp

lime juice

1

clove

garlic

¼

tsp

crushed red pepper
Fixin's
lettuce

I like curly lettuce here

red cabbage

finely shredded

shredded carrots

asian pickled cucumbers

fresh mint

fresh basil

fresh cilantro
Instructions
Meatballs
Add all of the ingredients in a large bowl. Mix well with hands.

Make meatballs, using a 2 tbsp size scoop.
Sauce
Mix all ingredients together.

Add a few tablespoons to your bowl.
Bowl Assembly
Fill a large bowl with your choice of fixings.

Add the right amount of meatballs for you. I like 3-4.

Add a few tablespoons of sauce.
Recipe Notes
Serving Suggestions:
On top of your favorite veggies
Tossed with shredded lettuce, cabbage, and carrots along with cucumbers
Vermicelli rice noodles are also super yummy
Nutrition Facts
Thai Chicken Meatballs (Beast Bowl)
Amount Per Serving (0 g)
Calories 240
% Daily Value*
Total Fat 0g 0%
Cholesterol 0mg 0%
Sodium 0mg 0%
Potassium 0mg 0%
Total Carbohydrates 0g 0%
Protein 0g 0%
* Percent Daily Values are based on a 2000 calorie diet.
0